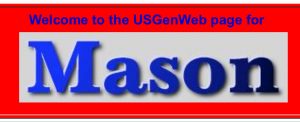 A NEW ENGLAND TOWN IN NEW HAMPSHIRE
Established in 1768
Boyhood home of Uncle Sam.
This website is dedicated to all the people
who have lived in Mason and who live there now.

~ HISTORY ~ GENEALOGY ~ RESEARCH ~
Microfilm Records
Many of these records are now online
MASON RECORDS ON MICROFILM
Family History Centers (FHC) at LDS Churches and some Genealogical Libraries (i.e.: New England Historical and Genealogical Society in Boston) have the following microfilms of Mason records available for researchers: NOTE: many of these records are now online. 
Mason Town Records 1758-1874, 4 films of the original State's copy located in Concord, NH ~
LDS film numbers:
Vol 1, 1758-1831….0015221… contains proprietor's records, province records, vital statistics
Vol 2, 1787-1816….0015222… contains town records
Vol 3/4, 1797-1824….0015223… contains town records
Vol 5/6, 1821-1874….0015224… contains town records
The above includes a very brief index. The Town Records include minutes of town meetings, accounts, tax lists, surveyors records, ear markings. Also births 1710-1850; marriages 1769-1850; deaths 1760-1840. Records are sparse for some years.
In March 1999 the LDS church finished microfilming more of the old Mason records! So they should be available to researchers unable to get to Mason. 
Many are now online.
This is what they filmed:
Marriages, births, deaths: 1850 – 1868
Marriages, births, deaths: 1 March 1862 – 1 March 1879
Marriages, births, deaths: 2 April 1879 – 20 Dec 1900
Marriages, deaths: 12 April 1911 – 12 April 1911 – 18 Nov 1937
Index of Marriage Certificates, compiled by E. O. Jones: 1855 – 1894
This website is sponsored by
Rhett's Paper Cranes and Rhett Owings.
It is on the internet to help genealogists and researchers doing research on their family trees.  All information on this site should be confirmed by checking with primary records.