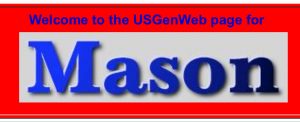 A NEW ENGLAND TOWN IN NEW HAMPSHIRE
Established in 1768
Boyhood home of Uncle Sam.
This website is dedicated to all the people
who have lived in Mason and who live there now.

~ HISTORY ~ GENEALOGY ~ RESEARCH ~
Research for Mason, NH at the New Hampshire Historical Society
New Hampshire Historical Society, 30 Park Street, Concord, NH 03301 (603) 225-3381 FAX 603-224-0463 Go to their homepage for hours and information.
New Hampshire Historical Library Card Catalog Search
The Historical Society is the location of the following resources for Mason research:
352.0778b M412 Published Town reports, 1850 – 1940
379.778bM412 Report of the supervising school committee of the town of Mason, NH
929.3778bM412rb Records of the Baptist Church of Christ of Mason, New Hampshire. Congregational Church: Centennial of the erection of the present building, 111 pages
285.8778b G815his A History of the Congregational church of Greenville, N.H.: on the occasion of its 125th anniversary, 1847-1972, 25 pages, pub: 1972
285.8778b M412r Records: Congregational church (Mason, N.H.) 1772-1850
285.8778bM412se Records: Second Congregational church (Mason, N.H.). 1847-1904.
285.8778b M412ses Records: Second Congregational church 1847-74.
286.1778b M398re Baptist church 1786-1830
286.1778b M398re Minutes of the proceedings of the Baptist society 1788-1812.
977.8bM412h Index Index to family registers in the History of the Town of Mason, N.H., 1858 Author: Spiller, Eleanor V.
929.2R968jr "Say hello to yesterday : Russell family chronicle" Authors: Russell, Jason Almus & Loring, Adele Russell.
912.778bM412 Map of Mason, N.H.
929.3778bM412rc "Cemeteries of Mason, Hillsborough County, NH" compiled by Mrs. Donald P. Russell, 1969, 96 pages (lists tombstone inscriptions)
929.2 W752r "Some of the Relatives of Ralph Brackett Wilson" by Catherine Wilson, 1976, 43pgs
285.8778b M412ce "Centennial of the Erection of the Present Building" author: Congregational Church in Mason, no date, 211 pages.
This website is sponsored by
Rhett's Paper Cranes and Rhett Owings.
It is on the internet to help genealogists and researchers doing research on their family trees.  All information on this site should be confirmed by checking with primary records.