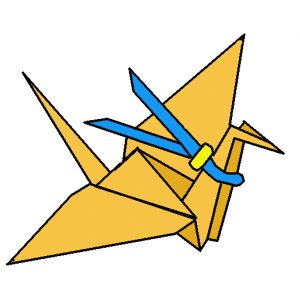 Rhett's Paper Crane Ornaments are really special.  They are folded with beautiful Washi papers and embellished with exceptional beads.  The beading is chosen carefully to match the paper and are often one of a kind beads.  Unique antique, vintage or handmade beads are sometimes used. Ornaments are about 4 inches long and designed to be hung on an ornament stand or tree, but they can really be hung anywhere.
Rhett's Paper Crane Ornaments can be purchased at her galleries, at the Sandhill Crane Festival or by request. 
Look on the Washi Paper Sample page to see some of the papers used in making these paper cranes. 
Below are just a few examples.
Paper cranes are available for sale on my Etsy shop.
www.etsy.com/shop/RhettOWINGSart
Click on a crane to enlarge