Evelyn Haertig Books & Purses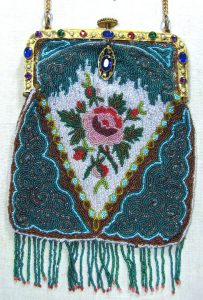 When Antique Combs and Purses was released it quickly became apparent that a second volume was necessary to deal in depth with antique purses. During the next 7 years, thousands of photographs were taken, years spent on research, a small fortune invested in frame and purse examples, and hundreds of purses restored in order to write this book.
This fine quality, comprehensive reference book has set the standard for purse collecting and can be found in the libraries of most great museums and collector's personal libraries. This book is invaluable to collectors, libraries, and antique dealers who wish to understand their collection. The price of this book is less than the expense of one good purse.
Book Specifications:
576 pages, 8.5 "x 11" , 574 full color photographs, 341 black/white photographs, hard cover, smythe sewn, five color glossy jacket, shrink wrapped
TABLE OF CONTENTS
Chapter 1  History and Development of the Purse
Chapter 2  Needle worked Purses: Some Embroidery Definitions
Chapter 3  Fabric Purses
Chapter 4  The Enduring Leathers
Chapter 5  The Beaded Purse
Chapter 6  The Development of the Metal Mesh Purse
Chapter 7  Celebrity Purses: Great Purses from Historical Figures
Chapter 8  Novelties
Bibliography
Cross referenced index
READ REVIEWS & COMMENTS FOR MORE BEAUTIFUL PURSES
BOOKS, PURSES AND OTHER ITEMS EVELYN COLLECTED ARE AVAILABLE FOR PURCHASE ON EVELYN'S ETSY SHOP.  
Available while supplies last.  We will not be reprinting the books in the future.
This website is sponsored by Milt and Evelyn Haertig's
daughter, Rhett Regina Owings and Rhett's Paper Cranes.