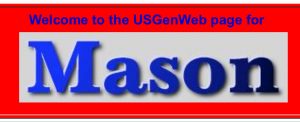 A NEW ENGLAND TOWN IN NEW HAMPSHIRE
Established in 1768
Boyhood home of Uncle Sam.
This website is dedicated to all the people
who have lived in Mason and who live there now.

~ HISTORY ~ GENEALOGY ~ RESEARCH ~
The following are names of
Men Drafted from Mason, NH
 2 Sept 1863
The following men furnished a substitute:
Jerome DAVIS
Otis WALTERS
Morton L. BARRETT
Horace E. DAVIS
Joseph McGOWN
James Q. CONANT
Albert WHITAKER
Henry P. ADAMS
The following men were discharged for disability:
Marshall H.NUTTING
Edwin B. HOSMER
William S. MERRIAM
Edmund B. NEWELL
Harrison HUTCHINSON
Benj. F. MARCH
Calvin BARRETT
Thomas GANEY
Israel D. BALCH
Robert L. CUMNOCK, Jr.
Nelson L. BARRETT
Patrick MELONEY
Bernard LAMB
Charles H. NUTTING
Elliott MERRIAM
Isaiah E. SCRIPTURE
Franklin B. HOLDEN
This website is sponsored by
Rhett's Paper Cranes and Rhett Owings.
It is on the internet to help genealogists and researchers doing research on their family trees.  All information on this site should be confirmed by checking with primary records.