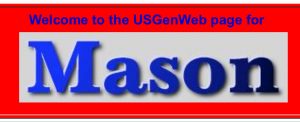 A NEW ENGLAND TOWN IN NEW HAMPSHIRE
Established in 1768
Boyhood home of Uncle Sam.
This website is dedicated to all the people
who have lived in Mason and who live there now.

~ HISTORY ~ GENEALOGY ~ RESEARCH ~
Samuel Wilson or "Uncle Sam" (1766-1854)

Samuel Wilson or "Uncle Sam" (1766-1854) grew up in Mason and the house in which he lived still stands on Valley Road in Mason. He became famous for his meat packing company in Troy, NY which supplied meat to the army during the War of 1812. He stamped his barrels with "US" for United States, but people began to say "That's Uncle Sam!" (In those days the term "Uncle" was a term of endearment.) After making his fortune in Troy, he returned to Mason where he married his childhood sweetheart, Elizabeth "Betsey" Mann. Her father, Capt. Benjamin Mann led 26 men from Mason to the Battle of Bunker Hill.
The Mason Historical Society has reprinted from the Mason Bicentennial 1768-1968 a 12 page pamphlet entitled "The Story of Uncle Sam" by Elizabeth Orton Jones. Available by mail for $5.00. This includes the postage. This booklet may be ordered from the Mason Historical Society, 16 Darling Hill Road, Mason, NH 03048. Make checks payable to the Mason Historical Society.
CLICK ON A PHOTO BELOW TO ENLARGE IT!
This website is sponsored by
Rhett's Paper Cranes and Rhett Owings.
It is on the internet to help genealogists and researchers doing research on their family trees.  All information on this site should be confirmed by checking with primary records.