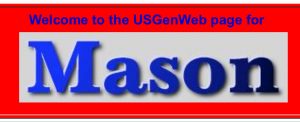 A NEW ENGLAND TOWN IN NEW HAMPSHIRE
Established in 1768
Boyhood home of Uncle Sam.
This website is dedicated to all the people
who have lived in Mason and who live there now.

~ HISTORY ~ GENEALOGY ~ RESEARCH ~
FISH FAMILIES of Mason, NH
After over 10 years of research, I have just published a book with Penobscot Press on Nathan Fish, son of Nathan Fish and Patience Shattuck of Mason, NH. He and his wife, Betsey Kinney/Kenney were early settlers of Starks, ME. I would be happy to answer questions on the Fish family of Mason, NH.
If you would be interested in listing it on your Mason, NH. resources page, it is titled Nathan Fish (1748-ca. 1811) and His Wife Betsey Kinney/Kenney, Early Settlers of Starks, Maine and Their Descendants. It is already available at the New England Historic Genealogical Library, the Family History Library, Allen County Library and the Maine State Library, to name a few. It is 244 pages, fully referenced and has an every-name index. While the book focuses primarily on Nathan Fish, it does include some detailed information on his parents and siblings, as well.
Your Mason, NH. website is outstanding!
Best wishes, Linda M. Dodge
This website is sponsored by
Rhett's Paper Cranes and Rhett Owings.
It is on the internet to help genealogists and researchers doing research on their family trees.  All information on this site should be confirmed by checking with primary records.