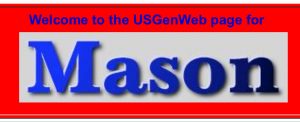 A NEW ENGLAND TOWN IN NEW HAMPSHIRE
Established in 1768
Boyhood home of Uncle Sam.
This website is dedicated to all the people
who have lived in Mason and who live there now.

~ HISTORY ~ GENEALOGY ~ RESEARCH ~
SOME RECORDS OF
ELLIOTT / ELLIOT / ELIOTT / ELIOT*
FAMILIES OF MASON, NH
* and other variations of this spelling
John Eliot (1717-1781) family. 
 
submitted by Ruth Anne (Elliott) Gibson
Two of John Eliot's sons served as soldiers in the Revolution.
"David Eliot (1852-1793) born in Mason, N.H.; was an Ensign in Capt. Towne's company. (See history of Dublin, N.H.., 1835, pages 328 and 419) " David Eliot" (as he spelled it himself–Ed.) was a man of marked character.
In the spring of 1775, with his brother John, he joined a company of volunteers, Capt. Towne, marched toward Boston from Mason, N.H., 65 men and joined Col. Reed's regiment. He was early on the ground at the battle of Bunker Hill and in the hottest of the fight although each man had but a gill of powder and 15 balls dealt out to him.
David had only his fowling piece, which after a few rapid discharges became hot and dangerous. Just then he discovered a good musket on the ground, the owner having been killed or carried away; he seized the piece, expended the remainder of his ammunition with it, brought it off the field and kept it until the day of his death. Capt. Towne;s company remained in service until the evacuation of Boston in the following spring, and was then discharged. Among the strong headed men of Dublin, in the olden time was David. He was a Baptist."
Source: Walter Graeme Eliot, A Sketch of the Eliot Family, (New York; Press of Livingston Middleditch, 1887), pg 38-39
"John Eliot (1745-1827) born at Bradford, Mass.; married Rachel Nutting (b. 4/9/1752, in Middletown, Mass., and died in Pelham, N.H., 1839), …
He was a cooper, and enlisted as a soldier with his younger brother David in Captain Towne's company of Col. James Reed's regiment at Bunker Hill. He moved, when a child, to Mason, N.H., with his father, and after many years' residence there, removed with David to Dublin, N.H. and died in Pelham, probably in the home of his daughter, Sarah Pearson…
Source:  Walter Graeme Eliot, A Sketch of the Eliot Family, (New York; Press of Livingston Middleditch, 1887), pg 28-29
This website is sponsored by
Rhett's Paper Cranes and Rhett Owings.
It is on the internet to help genealogists and researchers doing research on their family trees.  All information on this site should be confirmed by checking with primary records.