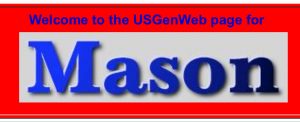 A NEW ENGLAND TOWN IN NEW HAMPSHIRE
Established in 1768
Boyhood home of Uncle Sam.
This website is dedicated to all the people
who have lived in Mason and who live there now.

~ HISTORY ~ GENEALOGY ~ RESEARCH ~
SOME RECORDS OF THE NATHANIEL BARRETT 
FAMILY OF MASON, NH
* BARET/ BARIT and other variations of this spelling
The FAMILY OF NATHANIEL BARRETT
Nathaniel BARRETT
Nathaniel was the son of William BARRETT [15]
William may have been born 21 Nov 1689 in Chelmsford, MA [not confirmed]
and Sarah -?- [BUTTERFIELD?] [not confirmed]
Nathaniel was born on 19 Oct 1717 in Westford, Middlesex Co., MA [15]
note: many websites on the internet incorrectly list his birthplace as Littleton, MA.
He died in 1775 in Mason age 57 [1, pg 177]
He lived in a number of towns, including Westfield & Groton, both in MA.
Nathaniel BARRETT married Abagail SEARLS in Westfield, Middlesex Co., MA on 8 Feb 1744. [15]
Their marriage records states that Abagail was from Concord, MA. [15]
Three of their sons were in the Revolutionary War: Nathaniel Jr, Reuben and Isaac. To read a fascinating account go here.
In Mason Town Records:
The town of Mason paid for a coffin for Mr. Nathaniel Barrett, 8 May 1777 [1, pg 91]
Town Records: "4thly. To see what the town will do in regard to that cow that the town purchased for the benefit
of Mr. Nathaniel Barrett's family this year, whether the town will sell said cow or have her kept this winter."
In First Tax List of Mason, 1769: Nathaniel Barrett: £0 s19 d9 1q
An order "To pay Wid. Abaigail Barrett twelve shillings, for her taking care of the meeting house one year, from August, 1775."
Children of Nathaniel and Abagail:
i. Nathaniel BARRETT, Jr.   born: 8 May 1742 in Westford, MA [15] died: 13 Sept 1826 [2, 4, 13]
married Mercy CUMMINGS 4 June 1772 Petersham, Worcester Co., MA [4]
Mercy was born in Jan 1747 [4] died: 14 Jan 1840 Stoddard, Cheshire Co., NH [4, 13]
Children of Nathaniel and Mercy [from his Rev. War Pension Papers 4]:
     1. Hannah BARRETT b: 10 JUL 1773 died before 1852
     2. Nathaniel BARRETT b: JUL 1775 died before 1852
    3. Nabby BARRETT b: 23 AUG 1777 died before 1852
    4. John BARRETT b: 22 June 1780
    5. Phineas BARRETT b: 7 Dec 1782 died before 1852
    6. child died young
    7. child died young
Nathaniel Jr was a Revolutionary War Soldier. [4]
The unique thing about Nathaniel Jr. is that after he died, his widow filed papers to receive a pension. Then his son, John, also filed papers after his mother died. Those papers are really special as they give a window into the life of the times and contains a wealth of genealogy. Nathaniel Jr.'s sister also filed a statement and this is wonderful reading. To read excerpts from these papers click here.
ii. Zaccheus BARRETT b: abt 1748 probably in Mason. [5] d: 26 Feb 1827 Mason, NH [1, pg 185]
married Sarah HODGEMAN in Mason on 29 July 1773 [1, pg 162]
Two known children:
    1 Betsey BARRETT, died 14 Dec 1796 in Mason, NH [1, pg 178]
    2 Zaccheus BARRETT b: ca 1777 died: 7 May 1807 Mason, NH age 30 [1, pg 180]
Seven other children have been mentioned on various websites for this family, but confirmed sources are needed.
iii. Reuben BARRETT b: 16 May 1750 Groton, MA [6, 4] He was a Revolutionary War Soldier [2. 4]
There were many Reuben Barretts here and there, but which one is which? anyone know more information?
I believe the Reuben Barrett who lived in Mason with his wife, Sarah Fletcher, was the father of Capt. Jesse Barrett and a distant cousin to Nathaniel.
So what do we know about Nathaniel's son, Reuben?
iv. Isaac BARRETT b: 16 Aug 1752 Groton, MA [6] He was a Revolutionary War Soldier [2. 4]
Where did Isaac live? Who did he marry? Any information you may have would be appreciated.
v. Sybil / Sibbell / Sybell / Sibil BARRETT b: ca 1767 bapt: 1767 Townsend, MA [7] d: 14 Sept 1857 Mason, NH [1, pg 193]
married 1st: John BALDWIN on 11 Dec 1794 Mason, NH [1, pg 166]
married 2nd: Joseph PROCTOR [4]
Sybil lived in Mason until her death. In 1840 she filed statements on behalf of her nephew, John (son of Nathaniel Jr) to receive a pension due to the fact that his father was in the Revolutionary War. Read her fascinating statement by clicking here.
For more information about Sybil Barrett and her family click here.
vi. Lucy BARRETT b: ca 1769 [7, Bapt. record, pg 457] Bapt: 8 Oct 1769 Mason, NH [7. baptism by Rev. Samuel Dix of Townsend, MA]
A Lucy BARRETT married Solomon BACON of Bedford, MA on 14 April 1794 in Mason, NH. This Lucy? [1]
==========================
SOURCES:
[1] History of the Town of Mason, NH from the First Grant in 1749 to the Year 1858 , Hill, John B. 1858 [2] "Celebration by the town of Nelson, New Hampshire of the One Hundred and Fifthieth Anniversary of its First Settlement 1767 – 1917 / Sketch of the Early History of the Town to Which is Added the Names and Records of the Pioneer Settlers of Packersfield who had part in the War of the Revolution" by Major-General Simon Goodell Griffin, 1917
[3] Morrison, Geroge: History of Petersborough, NH, 1954
[4] Revolutionary War Pension papers for Nathaniel BARRETT, Jr. pension application papers W24627
[5] Federal Census Records
[6] "History of the Town of Groton, including Pepperell and Shirley, from the First Grant of Groton Plantation in 1655, with Appendices, containing Family Registers, Town and State Officers, population and other statistics" by Caleb Butler, pub 1848
[7] Vital Records of Townsend, Massachusetts Town Recods to 1850 with Marriage Intentions to 1873 and Cemetery Inscriptions,
Transcribed by Henry C. Hallowell, NEHGS, 1992.
[8] Journal kept by Rev. Ebenezer HILL of Mason, NH; this little book was found in the manuscript collection at the
New England Historical and Genealogical Society, Boston, July 1998.
[9] Mason Town Records
[10] NH Vital Records
[11] Probate Records
[12] Proceedings at the Bicentenial Celebration of the One Hundreth Anniversary of Mason, NH, John B. Hill pub 1868
[13] Rev. War Pension Papers for Joseph PROCTOR
[14] Journal of Dr. William Barber of Mason, NH. There are two journals found in the Mason Historical Society room above the Town Clerk. There are three indexes but only two journals found. Dr. Barber kept the journals in the early 1800s. He kept a page for each family over a number of years.
[15] Vital Records of Westford, Middlesex County, MA 1850
[16] need conformation
This website is sponsored by
Rhett's Paper Cranes and Rhett Owings.
It is on the internet to help genealogists and researchers doing research on their family trees.  All information on this site should be confirmed by checking with primary records.