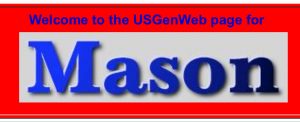 A NEW ENGLAND TOWN IN NEW HAMPSHIRE
Established in 1768
Boyhood home of Uncle Sam.
This website is dedicated to all the people
who have lived in Mason and who live there now.

~ HISTORY ~ GENEALOGY ~ RESEARCH ~
Clarence William Anderson
Clarence William ANDERSON, 1891-1971, was born in Wahoo, Nebraska. He married poet Madeline Paltenghi, who was born in Mason. He studied at the Art Institute of Chicago. He worked his way through art school as a school teacher for two years then in 1925 moved to New York to become a freelance artist. Developing an interest in horses, he became a judge of hunters and jumpers by the American Horse Show Association. He continued his art career by authoring and illustrating many books about horses. His works have been displayed in galleries and museums throughout the United States. His pen and ink drawings are reproduced using lithography. He made his home in Mason and used Mason for his settings and the Mason children as his subjects. He also made many works of art of Mason, taught art in the school and was a beloved citizen. Some of his books using Mason as a background are "Billy and Blaze, the Crooked Colt", "The Lost Quarry", and "Blaze and the Gypsies".  His works hang in the Mason school and the Mason Historical Society.    Submitted by E.O. Jones

Charles Emil Ruckstuhl, C.W.'s step-son, wrote a biography about C.W. Anderson: Andy as I Knew Him c 2004
Contact Charles at 496 Boston Rd., PO Box 678, Groton MA 01450
Resources for further research:
Wikipedia
Archived Collection of his papers
His grave site & memorial
Biography

Dr. William BARBER, was born in Worcester, MA. in 1767. His father's dwelling was burned by accidental fire, when he was an infant, by which his life was exposed to imminent danger, from which he was saved by the courage and presence of mind of his elder sister, afterwards the wife of Mr. Josiah Flagg. He pursued his professional studies at Worcester, with Dr. Greene. He came to Mason in November, 1790, and commenced the practice of physic and surgery, which he continued until disabled by the infirmities of age. He married (1) Mary Campbell of Berlin, Conn. She died Nov. 2, 1792. (2) Rachel Cutter, of New Ipswich, who survives him. He died July 11, 1852, aged 85 years. [from John B. Hill's book: History of Mason, 1858, page 266] To see a photo of a page from one of his journals from 1815-1816, see the Mason Vital Records page.

John BOYNTON was born in 1791 in Mason to Jeremiah and Elizabeth Boynton. He attended No. 2 School House where he was taught the basics of reading, writing and ciphering. After spending a number of years helping his father on the farm, he decided to go into business. In 1820-21 he began making tinware in New Ipswich, NH and selling door to door. Everyone wanted the shiny kettles, funnels, graters, dippers, pails and cups. About 1825 he married Abigail MERRIAM of Mason and moved his business to Templeton, MA. He added other wares to his collection of goods and visited town after town. He became a wealthy man. Some of his possessions may be seen in the Templeton Historical Collection, including some of his tinware. Upon retirement he settled in Athol where he became the first president of the Miller's River State Bank. In his quiet, charitable way and with a deep love for his home town, he gave a sum of ten thousand dollars to be invested and applied to the education of Mason children. He also set up a fund to establish an institution of higher learning at Worcester, MA. John Boynton died in 1867 and is buried in Mason beside his wife, Abigail.
Source: Mason Bicentennial, 1968,    E.O. Jones, editor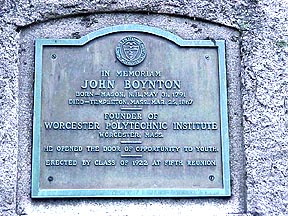 William Newton HARTSHORN, son of George HARTSHORN (1814/18 -1890) and Mary Adeline PUTNAM (1818-22-1882), was born 28 Oct 1843 in Mason, Hillsborough, NH. He died 13 Sep 1920 in Boston, Suffolk, MA (age 76). He was married to Sarah Ella FORD on 28 Oct 1875. Daughter: Bertha Adella HARTSHORN (1889- ).
William, educated in Milford, N.H. schools, spent one year at Appleton Academy in Mont Vernon. He was president of the Priscilla Co. proprietors of "The Modern Priscilla." Civic activities included: chairman of the International Sunday School Assn.; president; V.P. of the World Sunday School Assn. He was president of the Boston Baptist Social Union and belonged to many charitable institutions. Hartshorn was a delegate to the first Federal Council of Churches conference in December, 1908. He was regarded as an eminent publisher and author of many religious articles and books.
Submitted by "Derick S. Hartshorn"           Biography
Genealogy: Chasing your own tale!
This website is sponsored by
Rhett's Paper Cranes and Rhett Owings.
It is on the internet to help genealogists and researchers doing research on their family trees.  All information on this site should be confirmed by checking with primary records.