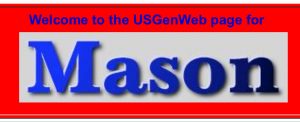 A NEW ENGLAND TOWN IN NEW HAMPSHIRE
Established in 1768
Boyhood home of Uncle Sam.
This website is dedicated to all the people
who have lived in Mason and who live there now.

~ HISTORY ~ GENEALOGY ~ RESEARCH ~
Dr. Willis JOHNSON was born on Dec. 21, 1786 in Sturbridge, MA. He studied medicine with Dr. Ephraim Carroll, of Woodstock, Conn., two years and with Dr. Ferdinand Lethbridge of South Brimfield, MA, one and half years. He married first Dorothy Flinn of Woodstock on March 30, 1806. She was born Jan. 16, 1785. He first commenced the practice of his profession at Jaffrey, in August, 1807 and moved to Peterborough, NH in Jan. 1808 where he remained until 1814. In July he moved to Mason and took up his practice. Dorothy died Jan. 2nd, 1843. He married secondly to Sarah Ann Robbins, daughter of Mr. Luther Robbins of Mason, on Aug. 4, 1844.
Dr. Johnson was elected town clerk of Mason in 1823 to fill the vacancy by the death of Samuel Merriam, Esq. and he was re-elected to that office between 1823 and 1854 twenty one times. He also served five years as chairman of the board of selectmen. He was appointed a justice of the peace in 1823 and held it until his death, Oct. 2, 1858.
History of Mason, 1858 and Centennial of Mason, 1868.
This website is sponsored by
Rhett's Paper Cranes and Rhett Owings.
It is on the internet to help genealogists and researchers doing research on their family trees.  All information on this site should be confirmed by checking with primary records.