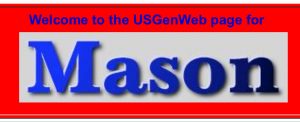 A NEW ENGLAND TOWN IN NEW HAMPSHIRE
Established in 1768
Boyhood home of Uncle Sam.
This website is dedicated to all the people
who have lived in Mason and who live there now.

~ HISTORY ~ GENEALOGY ~ RESEARCH ~
WILLIAM ALEXANDER CREIGHTON and SARA ANN BARRETT FAMILY
William Alexander Creighton was born in Mason on 28 March 1812. When William was 14, the Town Selectmen put William, his sister, and brother up for adoption to the town's folk. Apparently, his father Joseph had disappeared or died. His mother seems to have moved up to Washington, NH. William was in the town records for 1826-1828 as a "farmed out" child.  
Mason Town Records, pages 268 – 269, 328 and 333: Reference to Sally Creighton, William Creighton and Joseph Creighton: "Conditions which the selectmen made for the poor for 1826: Whoever bids them of are to provide for them in sickness and health. In health suitable food drink lodging and house room firewood and clothing their clothing at the end of the term for which they undertake to maintain them is to be equal to what it was when they receive them. In Case of sickness they are to have proper nursing and suitable necessary clothing and medicine in addition to what they are to have in health. In case of death the town will bury them they are to recieve pay no longer than they keep them. The children to have all the schooling the district affords when they are bid off."
In 1840, when William was 28, he married Sara Ann BARRETT, the daughter of Levi BARRETT and Sally BALDWIN. Sara was born about 1821 in Washington, NH. The family was very poor, as were many families in Mason.   William was a farmer and also did odd jobs around town, such as road work. He bought land in Mason from Alvah P. BARRETT who may have been related to his wife.
William and his wife had 9 children. The first child died the first year in 1841. their fourth child, Alvah, died of measels in Boston within a few months of joining the 13th NH Infantry. [See his tombstone] In 1865 Sarah filed for a pension as the mother of Alvah. And in 1878, William applied for a pension for the same reason. It was stated in the pension papers that he was elderly and quite ill. He died on the 13th of Feb. 1889 at the age of 70y 10m 13d in Mason. He is buried in the Old Pratt Cemetery. Sarah his wife died in Dec 1877. William's probate records lists 5 of his children. His son, George was appointed as exceutor of the property.

NINE CHILDREN OF WILLIAM CREIGHTON & SARA ANN BARRETT:
#1 Child born 1841 died 1841, perhaps at 15 days old [10] [136]
#2 George L. CREIGHTON was born 30 Aug 1842 in Mason. When he was 21 he married Martha M. HOLDEN in Townsend, MA on the 28 Aug. 1864. Martha was the daughter of Abner Holden and Rachel -?-. George was a farmer and worked in a granite quary. He was a soldier in the Civil War, although records still need to be found. His date of death is unknown except it was probably before 1922. [10, 135, 167]
      They had 6 children:
      1. Minnie M. (1865- ?), [12, 164]
      2. Georgie L. (1867- ?) [12, 164]
      3. Cora A. (b 1870- ) [12, 164]
      4. Clemina M. (1873- ?) [12, 164]
      5. unknown child (1875- ) [154]
      6. Emma (1876- ) [12]
#3 Joseph Chester CREIGHTON [10] [137] was born 7 Sept 1844 in Mason, NH. He married about 1870 to Clara M. LEE. [12] [134] He lived in Mason for 24 years before his death on March 2, 1904 in Mason.[164] He is buried in Pratt Cemetery. He is mentioned in various Mason Town Reports as worked on the roads.
      They had 5 children:
      1. Nellie (1871 – ?) [164] married Alfred ELLIOTT [173]
      2. William J.(1876- ?) [12] worked as a stave sawyer [12]
      3. Arthur J.(1880 – 1887) [
      4. Harry C. (1884-1916) [12, 134] killed in an accident, married Georgiana A. DOCKAM in 1905 [134] three children
      5. Hammand G. (1887 – 1974) [12, 62]
#4 Alvah B. CREIGHTON [10] [12] [167] was born 25 Nov 1847 in Mason, NH. On 2/3/64 he mustered into Unassigned NH 13th Infantry; He died of disease on 13 April 1864. His tombstone can be viewed here.
#5 Sarah E. CREIGHTON [10] [12] [135] [167] was born 3 June 1850 in Mason, NH. She died 2 April 1928 in Mason and is buried in Pratt Cemetery. She had a child, Finis Francis, perhaps by a Charles L. WRIGHT, although no marriage record has been found.  See the Finis Francis page. 
Sarah married
Michael McCabe

[135] on 2 Nov 1868, probably in Mason, NH. Michael was from Ireland. Michael may have died. [135] They had a child born before 1870, but it probably died young, after 1872. Sarah married secondly to

Charles H. Hartwell

,[135] on 16 Sept. 1872 in Mason. Charles was born ca 1851 in Nelson, Cheshire Co., Mass. He was a stone cutter. [135] Charles died before 1900. [14]
#6 Finis D. CREIGHTON

, was born 12 Jun 1853 in Mason, NH. and died 31 Oct. 1863. Died age 10yr 5mo 15d; died of a fever [10, 164, 176]
#7 Willis W. CREIGHTON

was born in Mason on 2 Sept 1856 and died in Goffstown, NH on 5 July 1937 at age 80. He apparently never married. [12, 164, 167]
#8 Clinton McCellan CREIGHTON

[12] [134] [164] was born 8 Nov 1862 in Mason. He died of pnumonia on 16 June 1902 at the age of 39. He was a laborer and worked as a quarryman. He married Alice May LEE on 9 Sept. 1882, Townsend, MA. [164]
SEE THEIR AUTOGRAPHS ON THIS PAGE.
Alice had a difficult time managing 9 childern after Clinton passed away and split up the children among other family members.
Children: (Some of these children may be the same. At times they went by middle names or nicknames and other times they went by first names in the various censuses and other records. This has made it difficult to identify them correctly.)
…….1. Carrie M. (1883-1953) [164] married John BARBEE, 2 children
…….2. Clinton C. (1884- ? ) [164]
…….3. Elmer C. (1884 – ?) [12]
…….4. Annie (Grace? or Gertrude?) (1886 – ?) [12, 164]
…….5. Etta Evelyn (1888- ) [12, 164]
…….6. Maud (1891 -?) [Birth record says she is the 5th child] [12, 164]
…….7. Grace M. (1892) [Birth record says she is the 6th child] married Clarence GERRY, 2 children
…….8. Daisy B. (1895- ?)
…….9. Walter A. (1897- 1963) [12, 62]
……10. Mable (1897-1988) [62, 11] married Asa REED
……11. Edith (ca 1900-1974?) married Aloria CHOUINARD and 2nd ?, 4 children
……12. Fred W. (ca 1902 – ) [12]
……13. Gertrude Ann (?) married Percy FLOYD [165]
#9 William H. CREIGHTON

[134] [164] was born 1 Aug 1866 in Mason, NH. He is buried in Pratt Cemetery although the date is unknown. May have lived in Lynn, Mass.?

[11] Correspondance with relatives
[10] Town Records of Mason, NH
[12] 1880 Federal Census Records
[14] 1900 Federal Census Records
[23] History of the Town of Mason, NH from the First Grant in 1749 to 1858 by John B. Hill, 1858
[28] Military War Papers of Abraham Shattuck
[62] Social Security Death Index
[64] Proceedings at the Bicentenial Celebration of the One Hundreth Anniversary of Mason, NH, John B. Hill pub 1868
[134] Printed Selectmen Report of Mason, NH for the year ending Feb. 15, 1916
[135] Original Book of Intentions [and marriages] 1834-1869 located in the Mason Historical Society Room
[136] Journal kept by Rev. Ebenezer Hill of Mason, NH
[158] Hillsborough Co. Probate Court, Nashua, NH docket # 39458
[164] Vital Records of NH, Concord, NH
[165] Vital Records of MA
[167] Dr. Willis Johnson's Delivery Book, located in the Mason Historical Society Room
[173] Vital Records of New Hampshire, Dept. of Vital Records, Concord, NH, microfiche of bride's index of marriages
[174] Morrison, Geroge: History of Petersborough, NH, 1954
[175] 1850 Federal Census Records
[176] 1860 Federal Census Records
[177] 1870 Federal Census Records
[178] 1910 Federal Census Records
[179] 1920 Federal Census Records
[180] 1930 Federal Census Records

This website is sponsored by
Rhett's Paper Cranes and Rhett Owings.
It is on the internet to help genealogists and researchers doing research on their family trees.  All information on this site should be confirmed by checking with primary records.