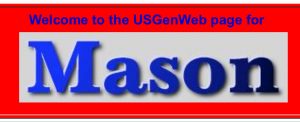 A NEW ENGLAND TOWN IN NEW HAMPSHIRE
Established in 1768
Boyhood home of Uncle Sam.
This website is dedicated to all the people
who have lived in Mason and who live there now.

~ HISTORY ~ GENEALOGY ~ RESEARCH ~
A Page from Dr. William Barber's Doctor's Journal 1815 - 1816
Is There a Doctor in the House?
The following photograph is from Dr. William Barber's Journal located at the Mason Historical Society room. You can see a biography of Dr. Barber on the Mason Biographies Page. Dr. Barber had a page in his journals for each of the families he visited. I found two journals there, however there are three loose indexes, which indicates a third journal. I used a camera to photograph some of the original pages, then made photocopies from the photographs.
The photo below is from one of Ebenezer FLAGG's pages with entries for 1815 & 1816. Note the names Clarisa, John, Eliab, and Eunice, as well as "for your wife." What were these medicines? What possible illnesses were they for? If anyone can help me with the medical terms, I would sure love to hear from you! [Please put "Mason Medicines" in the subject line.]
CLICK ON IMAGE TO ENLARGE.
This website is sponsored by
Rhett's Paper Cranes and Rhett Owings.
It is on the internet to help genealogists and researchers doing research on their family trees.  All information on this site should be confirmed by checking with primary records.