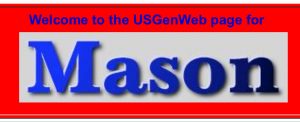 A NEW ENGLAND TOWN IN NEW HAMPSHIRE
Established in 1768
Boyhood home of Uncle Sam.
This website is dedicated to all the people
who have lived in Mason and who live there now.

~ HISTORY ~ GENEALOGY ~ RESEARCH ~
Revolutionary War Soldiers
from Mason, NH
Capt. Mann's Company at Bunker Hill
[alphabetized]
from Hill's  "History of Mason,1868"  page 223
Saml ABBOTT
John ADAMS
Elijah AVERY
Jos. BLOOD
Lt. BREWER
John BUXTON
Sam. CAMPBELL
Ebenr CARLTON
Amos COLBURN
John FISH
Isaac FLAGG
John GILSON
Simeon HILDRETH
Joseph HODGMAN
Zaccheus HODGMAN
Jere. HOLT
Capt. MANN
William PARKER
John THOMAS
John ROBBINS
Sam. SCRIPTURE
John SLOAN
Thomas TARBELL
George WOOLSON
Robert WORSLEY
Saml WRIGHT
Also served in the war for the town of Mason
from Hill's "History of Mason,1868"  page 223
Nathaniel/Nathan FISH
Mather HARRUP *
Abel HODGMAN
Joseph LAMPSON **
Isaac MITCHELL **
James MOORE **
Matthew Harup WORTHINGTON *
* Hill states that these two men are the same
** were non-residents of Mason
Also known to have served in the
REVOLUTIONARY WAR
Daniel HILL (1763-1841)
Jason RUSSELL (1741-1825)
Return of Soldiers in
Col. Nicholas' Regiment, enlisted 1777
from Hill's  "History of Mason, 1868"  page 222
Ebenezer ABBOTT
Thomas BLOOD
Nathaniel FISH
Jonathan FOSTER
David HALL
Mather HARRUP
Ruben HOSMER
James MITCHELL
James MOORE
Jos. ROSS
Nathn'l SMITH
Also, Gen. Whipple's
brigade to Rhode Island, 1778
Capt. Benjamin MANN
This website is sponsored by
Rhett's Paper Cranes and Rhett Owings.
It is on the internet to help genealogists and researchers doing research on their family trees.  All information on this site should be confirmed by checking with primary records.