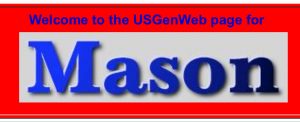 A NEW ENGLAND TOWN IN NEW HAMPSHIRE
Established in 1768
Boyhood home of Uncle Sam.
This website is dedicated to all the people
who have lived in Mason and who live there now.

~ HISTORY ~ GENEALOGY ~ RESEARCH ~
First Tax List 1769 Mason, New Hampshire
John ASTEN
William BADCOCK
Nathaniel BARRETT
Joseph BARRETT
William BARRETT
Joseph BULLARD
Widow BURGE
Corneilus COOK
Zachariah DAVIS
Amos DEACON, BARRETT (?)
John DUTTON
John ELIOT
Johnathan FOSTER
Isiac HOLDENNathaniel HOSMER
John JEFTS
Benjamin KING
Capt. Amos LAWRENCE
Ens Enoch LAWRENCE
Enosh LAWRENCE, Jr


Richard LAWRENCE
Samuel LAWRENCE
Stevens LAWRENCE
Mr. Will LAWRENCE
David LOWELL
David LOWELL, Jr
Joseph LOWELL
Moses LOWELL
Dennis McLAIN
Joseph MERRIAM
Lieut. Obediah PARKER
Nathen PROCTER
Josiah ROBBINS
Thomas ROBBINS
John SWALLOW
Edmond TOWN
Joseph TUCKER
Ruben TUCKER
Josiah WHEELER
Aaron WHEELER
Nathan WHIPPLE
Ruben BARRETT
Nathaniel BARRETT, Jr
Ebenezer BLOOD
Joseph BLOOD
Jason DUNSTER
Elias ELIOT
Oliver ELIOT
Hannah ELIOT, widow
Eliezer FISH
James HALL
Nathan HALL
Joseph HERRICK
Jonathan JEFTS
Mary JEFTS, widow
Thomas JEFTS
Jabez KENDELL
John LEONARD
Elizabeth POWERS, widow
Abel SHEDD
Nathaniel SMITH
Lemuel SPAULDING
Edmund TARBELL
Nathaniel TARBELL
Samuel TARBELL
Capt. Thomas TARBELL
James WEATHEE
Jonathan WILLIAMS
MASON STATISTICS CENSUS YEAR AND POPULATION
1790 = 922
1800 = 1179
1810 = 1077
1820 = 1313
1830 = 1403
1840 = 1275
1850 = 1626
How can one ancestor cause so much TROUBLE??
This website is sponsored by
Rhett's Paper Cranes and Rhett Owings.
It is on the internet to help genealogists and researchers doing research on their family trees.  All information on this site should be confirmed by checking with primary records.