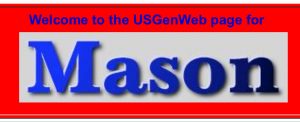 A NEW ENGLAND TOWN IN NEW HAMPSHIRE
Established in 1768
Boyhood home of Uncle Sam.
This website is dedicated to all the people
who have lived in Mason and who live there now.

~ HISTORY ~ GENEALOGY ~ RESEARCH ~
JOSEPH CREIGHTON and EUNICE JEFTS of Mason, New Hampshire
Joseph Creighton

was born sometime before 1800, although no record of his birth has been found.
He married

Eunice JEFTS

about 1811, although again, no record has been found. Eunice was the daughter of

Benjamin JEFTS and Juda DEGRETT.

She was born in Mason about 1799.
No record of Joseph's death has been found. Joseph is listed in the Mason 1820 census with his wife and two children. Joseph and Eunice had four children. The second child, was born in 1819, but nothing is known of this child, and it is assumed that the child died young. The other three children and their families are listed below.
Mason Town Records, pages 268 – 269, 328 and 333: Reference to
Sally Creighton, William Creighton and Joseph Creighton:

"Conditions which the selectmen made for the poor for 1826: Whoever bids them of are to provide for them in sickness and health. In health suitable food drink lodging and house room firewood and clothing their clothing at the end of the term for which they undertake to maintain them is to be equal to what it was when they receive them. In Case of sickness they are to have proper nursing and suitable necessary clothing and medicine in addition to what they are to have in health. In case of death the town will bury them they are to recieve pay no longer than they keep them. The children to have all the schooling the district affords when they are bid off."
Joseph may have died soon after 1822 and Eunice had a child in 1829, named
Amasa ELLIOTT.

Amasa's father is unknown at this time, but he may have been William ELLIOTT? She married 2ndly to

Abraham SHATTUCK

probably about 1833 or 1834, perhaps in Washington, NH.

Abraham SHATTUCK

was much older than Eunice, having been born in 1759. He was a Revolutionary War Soldier. The following excerpt was found among Abraham's Revolutionary War Papers:
Military Records of Abraham Shattuck:


"I,
Eunice Elliot

, wife of

William Elliot

and formerly widow of

Abraham Shattuck

, a soldier of the war of the Revolution and at the time of his death a Pensioner of the United States, do hereby relinquish all claim which I might have had to Bounty land under the law of March 3rd 1855 at the widow of the said Abraham Shattuck and request that the sume may be granted to America Shattuck and Sophronia A. Shattuck who were miner children of the said Abrahma on the third day of March 1855. They haveing applied with my consent for the a fore said Bounty land." [28]
Abraham and Eunice had three children:


….. #1

America SHATTUCK

[28] born 7 July 1835 probably in Washington, NH
…… #2 "another dead child" [from Abraham's pension papers]
…… #3

Sophronia Ann SHATTUCK

born 27 June 1839, Washington, NH [10] [12] [164] [28]
……………died 22 Dec 1924 in Mason, NH [158] buried in Pleasant View Cemetery
……………. married:

Andrew Jackson FLAGG

on 3 Oct 1857 in Nashua, Hillsbrough Co., NH


When Abraham SHATTUCK died on 10 March 1841 in Washington, NH, at the age of 81, Eunice married William ELLIOT. They were married on 24 Oct 1841 in Bellows Falls, Windham Co., Vermont. [28] In the 1860 census he was listed with Eunice as a farm laborer, age 71. He died some time after 1860. Eunice died 11 Nov 1870 in Mason, NH at the age of 71. [This William was apparently not the father of Amasa]
See the excerpt below:
Military Records of Abraham Shattuck: "State of New Hampshire, county of Hillsborugh
"On this first day of September A.D. one thousand eight hundred and fifty five personally appeared before me a Justice of the Peace, within and for said State and County,

Amasa Elliot

aged 26 years a resident in Mason in the State of New Hampshire who being duly swrorn declares that he is older Brother and next freind to

America Shattuck,

and

Sophronia Shattuck

Miners and children of

Abraham and Eunice Shattuck

, and the said

America Shattuck

declares that he is twenty years old having been born on the 7th day of July A. D. 1835 and that his sister

Sophronia Shattuck

was born on the 17th day of June 1839 and that there are no other children of the said Abraham within the age of twenty one years that their father Mr. said

Abraham Shattuck

was a private in the war of the Revolution in which he served seven years as they have been informed sand fully believe and that he was a Pensioner of the United State for military service, rendered during the Revolutionary War and they would respectfully refer the Commissoners of Pension to the eardence [?] filed in the department by the said Abraham in his application for a pension. That their said Father died at Washington in the State of New Hampshire on the 17th day of March A.D. 1841 and that his widow

Eunice Shattuck

mother of the applicants was in the 24th of October A.D. 1841 married to

Wm Elliot

at Bellows Falls in the State of Vermont by Russell Hyde Sigr a Justice of the Peace. The original certificate of marriage which has remained in their mother's posession is here with sent that their said Mother is still living in Mason New Hampshire with his for named Husband Wm Elliot and his wife and with whome the applicants above reside. They make this declaration for the purpose of obtaining their bounty lands to which the said

America and Sophronia

may be entitled under the act approved March 3rd 1855. They also declare that they have made no other application for or received any bounty land warrant under this or any other act of Congress
[signed] Amasa Elliott …. next friend
[signed] America Shattuck .. claimant for himself and Sophronia Shattuck"

See sources below.
CHILDREN OF JOSEPH and EUNICE [JEFTS] CREIGHTON
Click on William's name to see his family records.
#2  Girl CREIGHTON


This daughter may be the Sally CREIGHTON below. The birth record says she was born 24 March 1819 in Mason. [167, 136]
No further record of her can be found, so if this child is not Sally below, she may have died young.
#3  Sally (or Sarah) CREIGHTON


The birth record says she was born 15 Sept 1820 in Mason. [10, 167]. [See quote above. ]
She married before 1843 to

Charles AUSTIN

. He was born about 1818 [12]. They had 5 children:
……1. Louisa AUSTIN (1843- ?) [12]
……2. Albert AUSTIN (1845 -) May have been the Albert Austin who was killed in 1863 during the Civil War. [62]
……3. Mary AUSTIN (1847 – ?) [12]
……4. Charles AUSTIN (ca 1848 -?) [12]
……5. Alonzo B. AUSTIN (1853-1920) [12, 174] married Eunice C. HASKILL,
………….son: Charles A. AUSTIN who married Sarah H. CREIGHTON (born ca. 1872) [173]
#4  Joseph P. CREIGHTON


Joseph was born 10 May 1822 in Mason, NH. [167] [See quote above. ]
He married on 18 Sept 1845 in Lowell, Mass. to Laurinda CHAPMAN.
He and Laurinda moved to Vermont sometime between 1845 and 1860 living in Danville and Cabot. [176, 177]
Joseph P. CREIGHTON died between 1870 and 1880 as Laurinda was listed as a widow in the 1880 census.
Their children:
……… 1. Clara CREIGHTON, born in Vermont about 1842 [176]
……… 2. Edith J. CREIGHTON born 6 Nov 1848, in Waterville, VT; died between 1920 – 1930; [176, 177, 12, 14, 178, 179]
…………………married 1st Longley J. SPOFFORD about 1874. He died before 1887.
………………………daughter: Maud E. SPOFFORD, b: April 1882 in NH; died before 1920 in Laconia, NH
……………………………Maud married Bert GLEASON 16 Dec 1896. Lived in Laconia, NH [14, 178]
……………….. married 2nd: H.B. Dockham in Concord, NH on 27 Oct 1887.
…….. 3. Julius CREIGHTON born aoubt 1852 in Vermont. [177, 12, 14, 179, 180]
………………. married: Katie F. -?- about 1879. They lived in Peterboro, NH and Northfield, NH.
…………………….children: Eugene Julius CREIGHTON, Kate F. CREIGHTON, Susie A. CREIGHTON [census records]
………4. Orpha CREIGHTON, born about 1855, in Vermont [176, 177]
……… 5. Benjamin CREIGHTON, born about 1863 in Vermont [177]

SOURCES: [in brackets]
[11] Correspondance with relatives
[10] Town Records of Mason, NH
[12] 1880 Federal Census Records
[14] 1900 Federal Census Records
[23] History of the Town of Mason, NH from the First Grant in 1749 to 1858 by John B. Hill, 1858
[28] Military War Papers of Abraham Shattuck
[62] Social Security Death Index
[64] Proceedings at the Bicentenial Celebration of the One Hundreth Anniversary of Mason, NH, John B. Hill pub 1868
[134] Printed Selectmen Report of Mason, NH for the year ending Feb. 15, 1916
[135] Original Book of Intentions [and marriages] 1834-1869 located in the Mason Historical Society Room
[136] Journal kept by Rev. Ebenezer Hill of Mason, NH
[158] Hillsborough Co. Probate Court, Nashua, NH docket # 39458
[164] Vital Records of NH, Concord, NH
[165] Vital Records of MA
[167] Dr. Willis Johnson's Delivery Book, located in the Mason Historical Society Room
[173] Vital Records of New Hampshire, Dept. of Vital Records, Concord, NH, microfiche of bride's index of marriages
[174] Morrison, Geroge: History of Petersborough, NH, 1954
[175] 1850 Federal Census Records
[176] 1860 Federal Census Records
[177] 1870 Federal Census Records
[178] 1910 Federal Census Records
[179] 1920 Federal Census Records
[180] 1930 Federal Census Records

This website is sponsored by
Rhett's Paper Cranes and Rhett Owings.
It is on the internet to help genealogists and researchers doing research on their family trees.  All information on this site should be confirmed by checking with primary records.